👩‍🌾️ Farm retroactive $BETA rewards and Yearn's newest yVaults!
Also, learn about Hop's fast bridge for Optimism, and check out the stories of the week + the governance watcher!
Welcome to DeFi Pulse Farmer - your guide to staying up on the latest and best trends in yield farming and beyond.
In this newsletter, we break down top stories, developments, and trends from the past week in tandem with two key farming opportunities to keep an eye on.
If you want to access the full DeFi Pulse Farmer experience to receive emerging Yield Farming opportunities sent to you throughout the week as part of our Alpha Tractor Series, or the DeFi Pulse Farmer Protocol Express, which consists of a weekly recap of APYs and new pools on major protocols and a highlight of an emerging opportunity, subscribe today.
---
📉 A little shrinkage, but nothing to worry about — The total value locked (TVL) in DeFi sagged by $3B on the week, dropping from ~$85B to ~$82B in that span. Cause for concern? Hardly. Remember that this +$80B TVL remains within striking distance of its ~$90B all-time high! So overall the ecosystem is still looking quite robust at the moment.  
⛓️ L2 advancements a big news throughline — When it comes to optimistic rollup (ORU) layer-two (L2) scaling solutions like Optimism, two questions we've seen a lot have been when will they be practical? and when can I access my withdrawals? Two headlines this week address these questions in a big way.
First off, Synthetix-based options protocol Lyra just launched on the Optimism mainnet and in doing so became the first live Optimism-native app. How's that for showing how practical and ready-to-use the L2 are?
Next, we just saw the interoperability project Hop just unveiled the first "fast bridge" for moving funds between Ethereum and Optimism. Remember, a big previous concern about ORU L2s was that their withdrawal periods were going to take ~7 days. Notably, then, this new Hop resource lets users "transfer assets in and out of Optimism in minutes."
💸 This week's best-performing assets — Since last weekend, we've seen strong runs from the following top DeFi tokens:
📈 FXS (+66.7%)

📈 DDX (+65.1%)

📈 LRC (+43.5%)

📈 OHM (+24.5%)

📈 GNO (+23.6%)
👛 The $DPI pulse — The DeFi Pulse Index ($DPI) is currently trading at $392.74, marking a 6.74% decline on the week. No surprise there, right, as DeFi's overall TVL has acutely dwindled in recent days. 
---
Thank you to our sponsor DEXTF, an asset management protocol that makes managing and investing assets easier.
Accumulate and bundle yield generating assets with your favorite longs on DEXTF today.
---
🌾 Yield farm retroactive BETA rewards via Beta Finance!
The quickest way to wrap your head around the upstart Beta Finance project? 
The protocol is a decentralized money market akin to Aave, except Beta supports borrowing, lending, and shorting, whereas Aave only supports borrowing and lending!
This short-selling functionality not only gives Beta a unique value proposition, it also offers DeFi a new productive avenue for countering volatility.
"We wanted to enable DeFi users to have the ability to act as an opposing force to price volatility by providing a simple and seamless experience to short assets," Beta's builders have previously explained.
How to earn retro BETA rewards
Earlier this month, the Beta protocol launched on the Ethereum mainnet thus kicking off Phase 1 of the project's overall rollout. 
During this phase, users who borrow, lend, or short through Beta's initial whitelisted Verified Markets will later receive retroactive BETA tokens, the protocol's native asset, for doing so. 
That said, there are 16 active Beta markets for you to consider interacting with, which ordered according to their current size are as follows:
$ETH

$USDC

$USDT

$DAI

$SUSHI

$WBTC

$ALPHA

$MATIC

$UNI

$BAND

$LINK

$SNX

$YFI

$BNT

$BAL

$CREAM
So to earn $BETA later the name of the game is choosing and using one of these aforementioned markets now. If you're interested in diving deeper into these opportunities, check out these helpful resources:
Beta Finance has been audited and built by a public team, but these realities aren't full-proof defenses against all the pitfalls inherent to DeFi. Treat Beta as an experiment because it is one. Do your own research, and never yield farm with more money than you can afford to lose!
---
---
🚜 Yield farm via Yearn's newest yVaults!
It's always a treat when the Yearn community releases newyVaults — there's nothing quite like yield farming in dependable fashion through blue-chip DeFi infrastructure, is there?
Gather 'round, then, because Yearn's just offered us pristine DeFi yield pastures courtesy of new V2 yVaults around $AAVE, $COMP, $SUSHI, and $TUSD!
Keep in mind that you're not limited to just depositing these vaults' underlying assets either — Yearn lets users zap into vaults using "almost any token in your wallet." Additionally, when withdrawing you can zap out into the vault asset or your choice of ETH, DAI, USDC, USDT, or WBTC. 
If you're interested in joining any of these new yVaults just remember you'll first have to "approve" Yearn to spend your funds with an initial transaction and then actually deposit your funds with a second, follow-up transaction! After that, Yearn will get to work auto-farming on your behalf 👩‍🌾️
Yearn's infrastructure is as proven and trustworthy as you'll find in DeFi, but there's always the possibility that such new vaults contain vulnerabilities that simply haven't been caught yet. Do your own research, and only yield farm with money you can absolutely afford to lose.
---
Do you want to dive more into Yield Farming opportunities? Become a premium subscriber and get access to:
Alpha Tractor Series: giving you intel into the freshest yield for the most honest farmers only.

The Protocol Express: a weekly recap of APYs and new pools on major protocols and a highlight of an emerging opportunity.

Access to the Alpha Tractor Premium Discord channel.
---
---
Interested in trying out the Optimism L2? Synthetix's deployment on the scaling solution is certainly one solid starting point. Yet don't take the dive before checking out Teleportr! Created by Synthetix grantsDAO, Teleportr is a tool for affordably bridging ETH from Ethereum to Optimism 💸 
Teleport $ETH to Optimism with 𝙏𝙀𝙇𝙀𝙋𝙊𝙍𝙏𝙍 🛸 🛸 $5 gas cost, 0.02 ETH cap 🛸 Centralized bridge 🛸 Ethereum to Optimism 🔴 🛸
teleportr.on.fleek.co
Transfer $ETH from Ethereum to Optimism for cheap ⛽ Details:
medium.com/@SynthetixGran…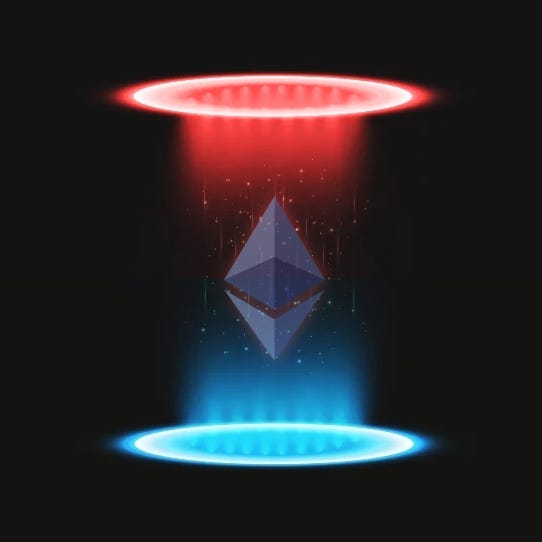 ---
---
What does the future hold in store for DeFi? 🤔
Whatever happens, the fact that DeFi has advanced as far as it has in such rapid fashionbodes very well for the ecosystem's prospects going forward.
Indeed, DeFi has captured the imaginations of people from around the world and empowered many in a short amount of time, and these achievements have translated to more than a few impassioned users. 
If it's the Rubicon we're crossing, those of us here do so happily because we absolutely believe in this cause. And that's what DeFi has that TradFi will never have. Good luck competing with us over the long term, then! 😉🥊
---
All info in this newsletter is purely educational and should only be used to inform your own research. We're not offering investment advice, endorsement of any project or approach, or promise of any outcome. This is prepared using public information and couldn't possibly account for anyone's specific goals or financial situation. Be careful and keep up the honest work!