Swerve Finance [Alpha Tractor]
Learn more about the community-owned Curve fork and the SWRV governance token.
THIS STRATEGY IS BRAND NEW AND EXTREMELY RISKY. SWERVE IS UNAUDITED AND SHOULD BE APPROACHED KNOWING YOU MAY LOSE 100% OF YOUR FUNDS.
This is part of the Alpha Tractor series - giving you intel into the freshest yield for the most honest farmers only.
Next week, Alpha Tractor will become a paid-only feature of DeFi Pulse Farmer. To stay ahead, enjoy this Early Farmer discount good for 30% off your subscription!
Curve Finance - the leading stablecoin AMM with $2.77B in cumulative volume - just got Swerved.

Swerve Finance, the latest in the series of 'community-owned' forks, has aggregated farmer's liquidity with a stripped, IPFS-hosted version of Curve.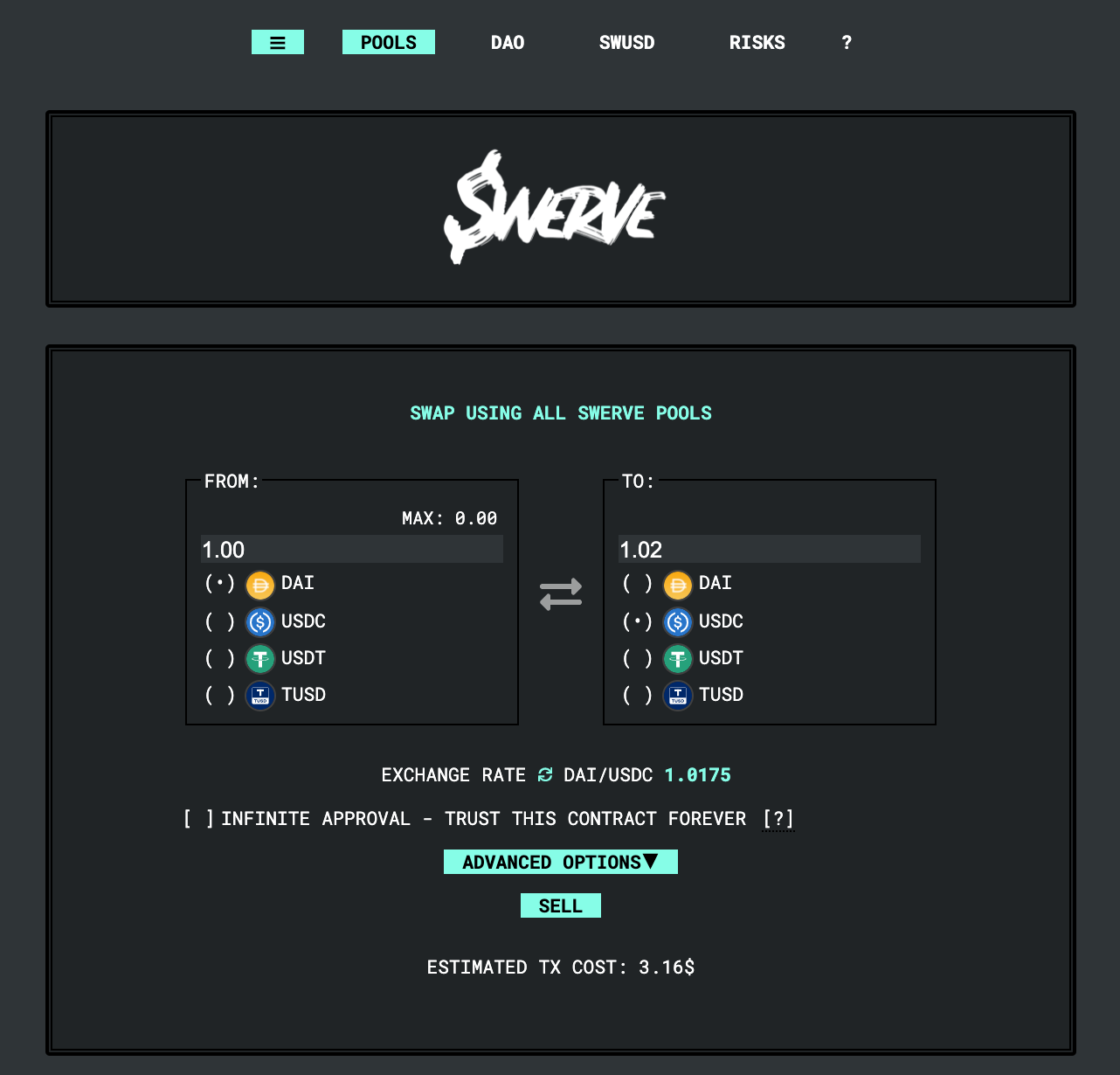 Why Swerve?
Swerve features just one pool - yEarn's Y pool - with no premine and no earlyLP rewards. The native governance token - SWRV - is used for adding new pools alongside extra LP rewards.

As described, the first two weeks feature a much higher issuance rate, equal to one year's worth of rewards in just 14 days. Here's a look at how it breaks down.
Total Supply: 33,000,000 SWRV
9,000,000 $SWRV [2 weeks]

9,000,000 $SWRV [year 1]

3,000,000 $SWRV [year 2]

3,000,000 $SWRV [year 3]

3,000,000 $SWRV [year 4]

3,000,000 $SWRV [year 5]

3,000,000 $SWRV [year 6]
To earn SWRV, farmers deposit DAI, USDC, USDT or TUSD to the swUSD pool.
Once deposited, farmers will need to stake their position via the swUSD liquidity gauge to start earning SWRV rewards.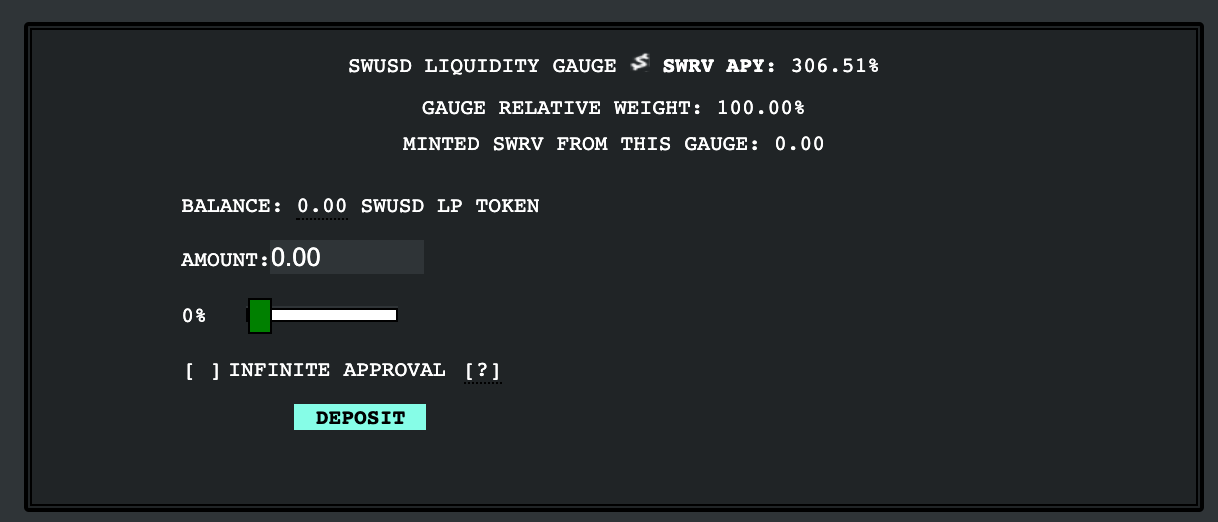 Just like Curve, LPs can lock their SWRV rewards to boost yields. The longest duration is 4 years, and the maximum APY multiplier is 2.5x.
To better understand how this works, check out the 'Conservative Farmer' section of this week's DeFi Pulse Farmer for a step by step guide. Please note that the guide is for Curve but the exact same process applies to Swerve.
TLDR: The longer farmer's lock up SWRV, the higher boost multiplier LPs receive. The more liquidity a farmer has, the more SWRV they need to lock to earn the max multiplier.
Swerve has a built-in Calculator to see how much SWRV needs to be locked for the maximum 2.5x reward multiplier.
Why Should I Care?
Just as we saw with SushiSwap, a community-forked protocol has serious potential to compete with those who built the crucial infrastructure.
While Swerve only features one anonymous developer, appropriately named John Deere, the community seems to have flocked to the minimum-viable version of the leading stablecoin AMM.
Please note that as with any new fork, contracts are unaudited and extremely risky. While there have been no major red flags raised around rug pulling, please be sure to proceed with caution when interacting with the hottest curve on the block.
To keep an eye on Swerve, follow the project on Twitter, or join the conversation on Discord.
——
All info in this newsletter is purely educational and should only be used as research. DeFi Pulse is not offering investment advice, endorsement of any project or approach, or promising any outcome. This post is prepared using public information and does not account for specific goals or financial situations. Be careful and keep up the honest work!